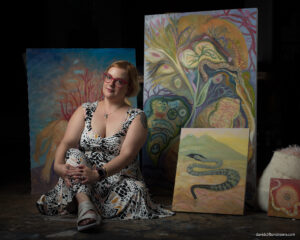 Bio: Elizabeth Katherine Porcel was born and raised in Long Island, NY. She studied at the Pratt Institute, completed an AAS in Mortuary Science at Nassau Community College, and completed her BFA (summa cum laude) in painting at Savannah College of Art and Design in Atlanta. It is through this unusual culmination of experience where Porcel draws her inspiration.
Since 2017 she has been building a female bestiary through her paintings. 
Elizabeth Katherine Porcel has exhibited her work throughout the United States and calls Atlanta home. Her work is held in the collection of Delta Airlines and private collections.
Artist Statement: Working from mental images of things I've seen, reference photos, anatomy books, and even branches dragged into the studio and rendered from life. What I read, things I've experienced and bearing witness to my own life in relation to others all influence my work.
Water-based media is my primary paint material. It lends itself as nicely to intuitive beginnings as it does to sharper mark making. I also like the idea of earthly elements such as clay and crushed gemstones being in the paintings.
I started building a lady bestiary in 2017, borrowing heavily from Physiologus while adding my own characters. This has broadened to include flora as well – though the plants in my paintings tend to be mammalian.
Taxonomy is nice. Though, it doesn't leave much room for rumination or wonder. This idea of creating space for contemplation is the backbone of my studio work.My goal is for the viewer to experience the same space for contemplation that I inhabit while creating the work.
For Sales inquiries please contact Poem 88 Gallery