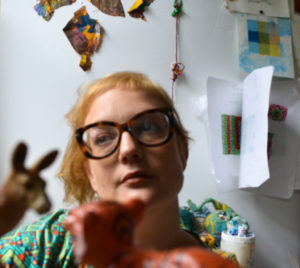 Elizabeth Katherine Porcel was born and raised in Long Island, NY. She studied at the Pratt Institute, completed an AAS in Mortuary Science at Nassau Community College and completed her BFA (summa cum laude) in painting at Savannah College of Art and Design in Atlanta. It is through this unusual culmination of experience where Porcel draws her inspiration.
Often utilizing a labyrinth or grid as the skeleton of her work Porcel explores spiritual meditations and new scientific concepts symbolically employing process as a means to understanding; unraveling endless solutions to Erehwon.
Elizabeth Katherine Porcel has exhibited her work throughout the United States and calls Atlanta home.